New Branch in Keenesburg!
High Plains Bank - Keenesburg
We are thrilled that we have opened a new branch to serve the Keenesburg community. The new branch is located at
165 N. Market Street
. Stop by and see us.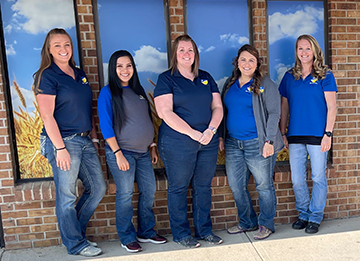 Banking is Our Third Priority
We have a saying at High Plains Bank: Banking is our third priority, family and community come first. It may sound strange to hear a business say that its actual business is a "third" priority. We believe this is a key to our success. We build our banks around people who are committed to their communities. The bank is a way to serve our neighbors and friends.
That's why we are so excited to have our local Keenesburg team. Krista Gibson, branch president, and Kristine Bell, business development director, both farm and ranch in the Keenesburg area. Along with their husbands they operate multi-generational family farms. Isabel Granados, branch manager, and Lindsey Skinner, loan processing, are veteran bankers in the Keenesburg-Hudson community. Heather Huck's family has deep roots in the area and she is a long-time local business person and Brighton High School graduate.
A History of Ag Lending
High Plains Bank was built by farmers and ranchers. Throughout the bank's history, the lending team (and other departments) have been led by people who are actively involved in agriculture. That remains true today. Farming and ranching is in our DNA.
We have noticed as our peer banks have been acquired by corporations, that Ag Lending is less of a priority for many banks. That is not true at High Plains Bank. We are excited to expand our ability to serve the farmers and ranchers of Weld County and surrounding areas. You will find that we have the expertise and passion for this work.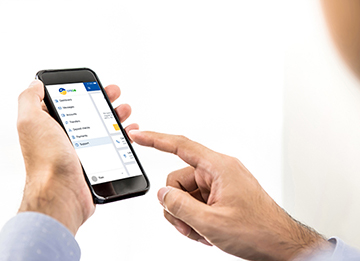 Modern Banking Services
We have made significant investments over the past few years to provide our customers with the same modern banking services the "big banks" have. We have a highly rated, easy to use mobile app, the latest debit card services, and the ability to solve banking problems any time of day.
Our approach is different from the "big banks" though. You will always have the opportunity to talk with a real person when you have questions or concerns. We pride ourselves on our follow through and problem solving approach when customers need our help. Customers often tell us how much they appreciate how creative we can be.
Thriving Communities
At the end of the day, our primary goal is to help people build thriving communities. We live in the communities where we do business. We raise our children in these communities. And, we plan to retire here, too. We want the places we live to be interesting, vibrant and healthy.
We look forward to building long-term relationships with the Keenesburg and Southwest Weld communities. Working together, we are confident that we will be able to do great things.