Keenesburg New Branch Is Open
New Keenesburg Full Service Branch is Now Open!
High Plains Bank, an employee owned and community driven bank, has opened the new full service Keenesburg branch location, including a drive-through teller and ATM. The new branch is located at 370 Veterans Way at the corner of County Road 18 and Market Street.  
High Plains Bank opened a temporary branch in Keenesburg in October 2021 in order to serve Keenesburg, as well as the Roggen, Hudson, Kersey, Fort Lupton, and Fort Morgan communities in meeting their financial needs, from small business to home loans to Ag Lending, to online and mobile banking.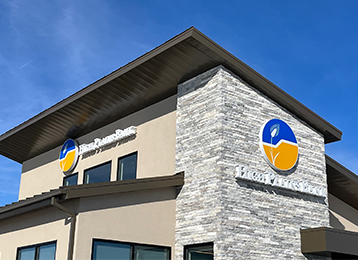 A Dynamic Team with Deep Community Roots
"Opening the new branch building in Keenesburg is the result of over two years of hard work from a team of dedicated people," says Krista Gibson, Keenesburg Market President. "The Keenesburg team is thankful for the support and encouragement we have received from the community and from all of High Plains Bank. We are honored to be able to continue to serve our friends and neighbors in Southeast Weld County."
The High Plains Bank Keenesburg team is rich with town and agricultural connections, Gibson operates a multi-generational farm and ranch in the area with her husband. Additionally, Isabel Granados, Branch Manager, Brooke Bostron, Loan Processor, Cora Ravencamp, and Dani Blasier, Loan Processor, bring a wealth of banking experience in the Keenesburg-Hudson community. Rounding out the group are Customer Service Representatives, Heather Huck, a long-time local business person and Brighton High School alum, and Gage Cochran, also a Brighton native and resident.
Building on a Track Record of Success and Community Impact
"I'm grateful for our Keenesburg team who exhibited tremendous faith and patience that we could get from a temporary location to an actual bank," shares John Creighton, High Plains Bank CEO. "The team, led by Krista Gibson, took a leap of faith that has been instrumental in so much of the bank's success. I am grateful to Krista, Kristine, Isabel, Heather, Brooke, Cora, Dani, Gage, for joining the team. It is deeply satisfying to see an idea come to fruition, already with a track record of success."
While High Plains Bank's presence in Keenesburg is only two years old, the locally connected team is already having an impact on the community. From helping the American Legion Post 180's modernize their credit card processing, to supporting the Weld County's Life Stories Child and Family Advocacy program with their annual "Giving Tree," to being all hands on deck assisting with the Livestock Sale at the 2022 Southeast Weld County Fair, the Keenesburg team is committed to serving the entire community.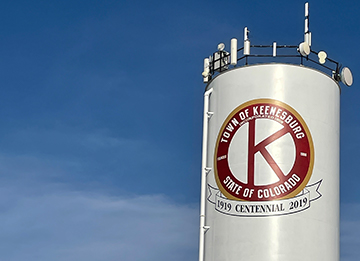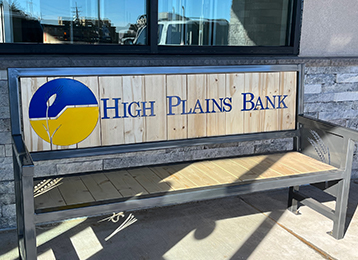 The new Keenesburg Branch was designed by BDSI and constructed by Buildings By Design, a full-range general contracting firm located in Brush, Colorado who also built the new High Plains Bank Wiggins location that opened in September 2022.
The new Keenesburg branch is approximately 3000 square feet and the interior includes art by local photographers.
To learn more about the Keenesburg Branch and Team, click here.