100th Southeast Weld County Fair
Photo by Shelli Quattlebaum
100 years of Honoring Southeast Weld County's Rich Agricultural Heritage
County Fairs are a treasured American tradition. Usually held in July and August, these events celebrate the rich agricultural heritage that built our country, feeds our citizens, supports our youth, and honors the hard-working ranch and farm families. One of the standout fairs in the state is the Southeast Weld County Junior Fair and Rodeo, which is celebrating its 100th year on August 11th-14th in Keenesburg, a town founded in the early 1900s by farmers and ranchers whose traditions are alive and thriving today.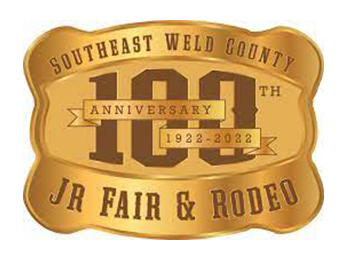 Grown from a Foundation of Community
Every August since 1922, the community in Southeast Weld County Fair has gathered to celebrate their deep agricultural traditions. As the only independently-operated county fair in Colorado, the five-day event is organized, managed, and run by a volunteer team of community members dedicated to supporting the 4-H and FFA youth. 
Keeping true to its agricultural roots, the Southeast Weld County Fair and Rodeo focuses on providing a high visibility venue for 4-H and FFA youth to compete in a variety of areas, from home economics, agricultural mechanics restoration, to showing and selling beef and dairy cows, goats, pigs, sheep, and poultry. The fair also offers a full rodeo and a return to live entertainment, including a special concert with country music singer-songwriter and former saddle bronc rider, Chancey Williams, named iHeartRadio's 2022 Rocky Mountain Country Music Awards Entertainer of the Year. Chancey will be joined by special guests Clare Dunn and SJ McDonald, on Saturday, August 13th.
"We're excited to celebrate the 100th anniversary of the Southeast Weld County Fair," says Duane Neese, Fair Board Vice President. "The entire Fair Board welcomes all of our supporters and the community who we hope will come out and enjoy our special lineup of activities. We would also like to thank High Plains Bank for their support and for assisting in our livestock auction."  
High Plains Bank, which opened its doors in Keenesburg in October 2021, is a Gold sponsor and will be providing Merchant Services for the livestock sale. The branch location employees all live in Keenesburg or in the surrounding towns including Hudson and Roggen, and many of them are also farmers and ranchers. The current branch, located at 165 North Market Street, Unit B (just west of the gas station), will remain open until the completion of the new site, anticipated to be done by February 2023.
"When we decided to grow High Plains Bank in the Southeast Weld County community, we knew right away the Fair Board was at the top of our list of organizations we wanted to build relationships with," shares Krista Gibson, High Plains Bank Keenesburg Market President. "The Fair is a longstanding tradition in the community, an event that everyone looks forward to all year long. High Plains Bank is excited to work with the Southeast Weld County Fair and Rodeo board as they celebrate their 100th year."
Investing in the Future of Agriculture
Central to the future success of the Southeast Weld County Fair is investing in the next generation of farmers, ranchers, and agriculturalists. One of the much anticipated events of the 100th fair is the Market Livestock Sale which takes place in person on Saturday, August 13th. The sale features beef, hogs, goats, and lambs raised by a 4-H or FFA member who lives in or physically attends the RE-3J school district. 
"I'm blessed to be able to show in a fair that is 100% funded and supported by the great people of our agricultural community," says 14 year old Cydni Dudley, member of the Magic Spurs 4H club who will be showing her pigs at this year's fair. "Living in such a great community with an event that's made it to 100 years has been incredible. I wish everyone luck at the fair!"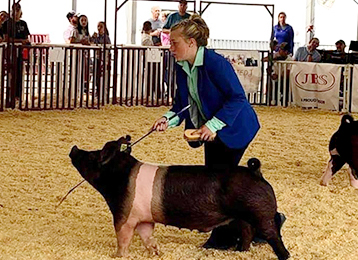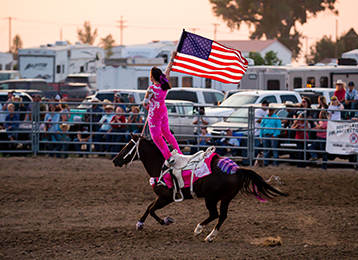 A Tradition of Care and Compassion
"Each year the board provides opportunities for the youth and adults to learn about and celebrate agriculture, a way of life that this community was founded on and provides experiences and friendships that will last a lifetime," says Gibson. "We're excited to be assisting the Market Livestock Sale with animal purchase invoices and credit card processing. And this year, buyers will be able to either pay by check or online, a first for the Southeast Weld County Fair. The High Plains Bank Keenesburg team is grateful for the opportunity to join the board in supporting the youth of Southeast Weld County today and for at least the next 100 years to come!"
In addition to personal use purchasing, buyers can also designate that their purchases be donated to a local charitable organization, Loaves and Fishes Food Pantry, a joint ministry of area churches. The Fair Board takes responsibility for transporting the donated animal to a local meat processing facility and then to the Food Pantry, located in the Community UMC's Education Building, at155 South Main Street in Keenesburg.
The Southeast Weld County Fair and Rodeo runs from Thursday, August 11th-Sunday, August 14th. To learn more, visit https://southeastweldcountyfairgrounds.com/
Learn more about our High Plains Bank Keenesburg team and Merchant Services.