Wiggins Branch Grand Opening
The energy at 401 Central Avenue in Wiggins was buzzing with excitement for the grand opening of the new High Plains Bank branch building on Friday, September 16th, 2022. A steady flow of customers, friends, family, and High Plains Bank staff from all locations joined together to wish the Wiggins team well in this new and exciting phase. The branch staff, a dedicated team of local Wiggins residents, has been serving the Wiggins community for decades.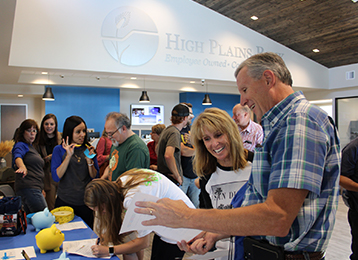 New Building, New Energy
The party atmosphere got off to an early start with complimentary coffee drinks from locally-owned Morningwood Coffee Truck, and later with lunch from local businesses Delia's Tacos and More, and Blue Ribbon BBQ and Smoke. In addition to the delicious food and beverages, there was a bank trivia game and giveaways from local restaurants and businesses, as well as a Colorado Rockies jersey from pitcher Ty Blach, and Denver Broncos Memorabilia. 
"High Plains Bank has been actively supportive of the growth and improvements in our community," shares Gail Stencel, Wiggins Location President. Stencel, a Wiggins native, has been part of the bank since 1973, continuing when High Plains Bank took ownership in 2001. "Our goal is to continue to serve and be a part of the thriving community of Wiggins, for generations to come."
Full Service Bank Committed to Community
The new building, 4500 square feet in size, was designed by DBSI and constructed by Buildings By Design, a full-range general contracting firm located in Brush, Colorado with deep ties to the Wiggins community. The building features a spacious and modern lobby, state of the art teller lines, new drive through lanes and canopy, as well as accommodating parking. "The entire High Plains Bank team has really set the bar high in terms of the new facility in Wiggins," Travis Lefever, Business Development for Buildings By Design (BBD) shares. "I grew up in Wiggins and our company and the employees have been longtime customers of High Plains Bank. It's a great experience to see the growth and vision of this branch come to life!"
"We have had the good fortune to be part of the Wiggins community for 20 years," says John Creighton, High Plains Bank CEO. "We anticipate that Wiggins will be a hub for the long-term growth of the organization and to serve the surrounding communities. None of this would be possible without the support of the community and the long-time and emerging leaders of our Wiggins team – Gail, Esther, Janet, Debbie, Linda, Diana, Ximena, Caleb, Krystal, and Karla."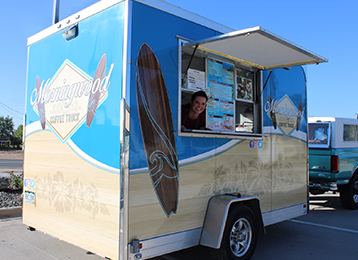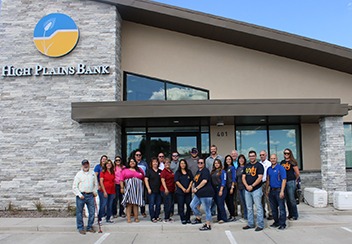 Investing in All Branch Communities
Investing in communities is a core value for High Plains Bank with new projects underway, including a new full service branch building under construction in Keenesburg, expected to open in early 2023, and located at CR 18 and Market Street. The new building, also designed and constructed by Buildings By Design, will be situated near the current branch location (which will remain open during construction) at 165 North Market Street, Unit B.