HPBGO Debit Card Management Puts You in Control!
From alerts and protections, to quick and easy reporting of a lost or stolen card, HPBGO Card Management puts you in total control of your High Plains Bank debit card. Set up your HPBGO Card Management from a smartphone or mobile device by following these simple steps:
Card Management Instructions
You can access card management through HPBGO either online or on your mobile device. 

Login to HPBGO.

Scroll to the bottom of the dashboard screen and look for "Card Management." Select the card that you'd like to manage.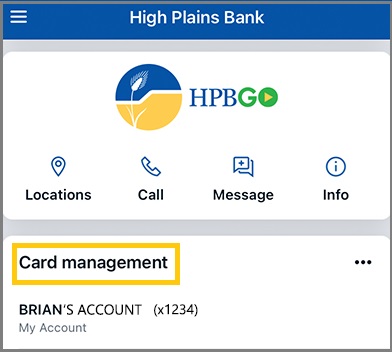 New Debit Card Activation Instructions
Just received your new debit card? Follow these simple steps to start using it right away:
To Activate your New Card:
Login to HPBGO and look for your card under Card Management
Call or visit a High Plains Bank Lobby
To Set your PIN:
Check out our Card Management Tool inside HPBGO. In addition to the robust security that you receive through our secure chat feature, you can now control your own debit cards with notifications and alerts. This allows you to be well informed before an incident of fraud may occur. Reaching out is as simple as starting a conversation with one of our live-chat employees to answer your questions.
Janelle Kountz, Director of Processing & Card Services
Here's what you can do with your HPBGO Card Management:
Activate a new card
Lock a card
Report a lost or stolen card
Set spending limits

Set transaction alerts to help you track spending
Block certain transaction types, including e-commerce (online) and in person international purchases
HPBGO Card Management FAQs
How do I activate my card?
You can activate your card by logging into HPBGO, then go to the Card management screen and click on "Activate New Card."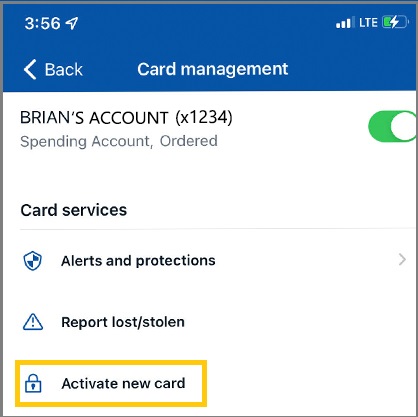 To set up a PIN for your card, please call Card Holder Services at 1-800-290-7893 and follow the prompts.
I've misplaced my card. What do I do? 
If you've misplaced your card you can:
Lock your card by toggling the switch at the top of the Card Management dashboard. The color grey means your card has been locked. If you find your card, you can simply toggle the switch back to green.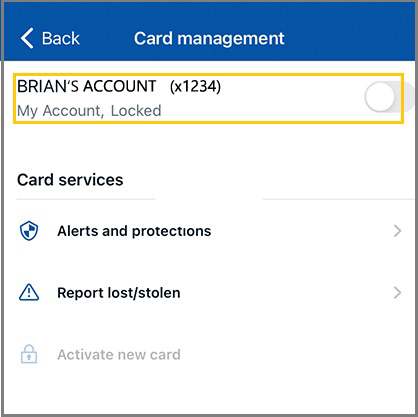 Report your card lost or stolen by clicking on "Report Lost/Stolen." This action will deactivate your card and you will need to
contact High Plains Bank
to be issued a new card.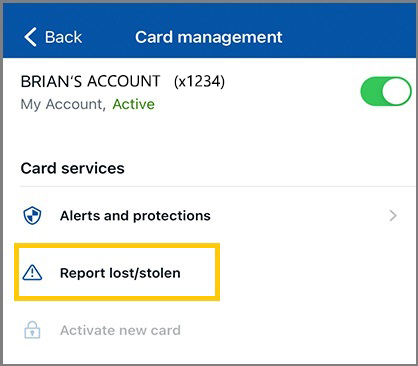 What kind of merchant or transaction types can I block?
With Card Management, you can block or receive notifications for both merchant and transaction types. Click on "alerts and protections," and then on to "Merchant types" and "Transaction types."
To view descriptions of  "Merchant types," scroll to the bottom of that page, click on the information link for "Merchant type details."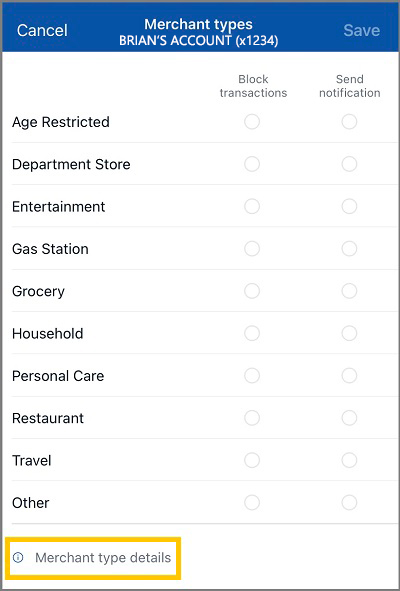 To view descriptions of  "Transaction types," scroll to the bottom of that page, click on the information link for "Transaction type details."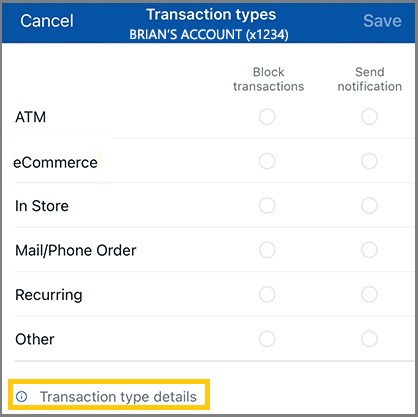 How quickly do my card management changes take effect?
The changes are in real time and take effect immediately.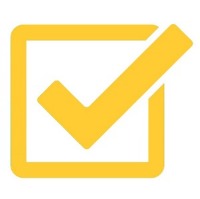 What are my options for configuring notifications?
On the card management dashboard, click on "Alerts and Protections," where you can either block certain transactions altogether, or send yourself notifications.
Notifications can be configured for delivery in three different ways: In-app message, Email or Text message. In-app messages notify you that HPBGO has a notification that you need to review through your phones Notification Center (this is dependent on how you have configured your device to handle application notices). In some cases, customers prefer an email or text message.  You can also select to receive notifications multiple ways (In-app and Text messages, as an example).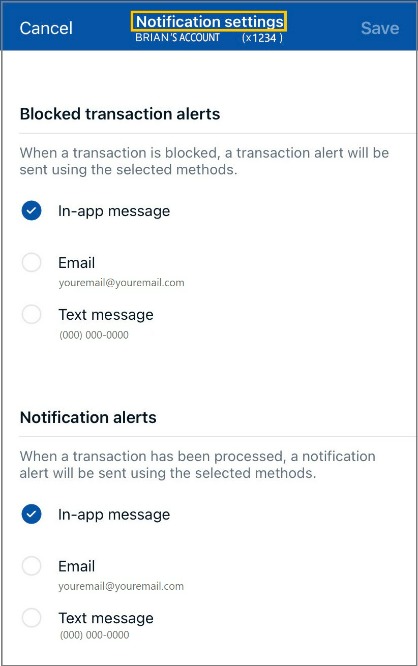 Can I restrict international transactions on my card?
Yes, you can block or get notified for any in person international transactions. To manage this setting, go to
Alerts and Protections
, then click on 
Locations
. Here you will find the setting for
International
. Please note, blocking international transactions will stop in person card usage in countries outside of the United States. Online transactions from international vendors will still be possible. You can control Online Transactions separately using the "ecommerce" options under
Alerts and Protections -> Transaction Types -> eCommerce.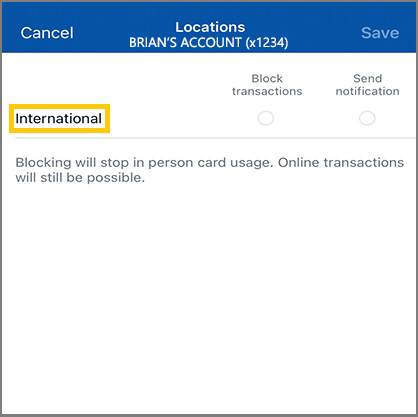 Can I turn online transactions off?
Yes, you can block or get notified for any transactions from online vendors. To manage this setting, go to
Alerts and Protections
, then click on 
Transaction Types
. Here you will find the setting for
eCommerce
.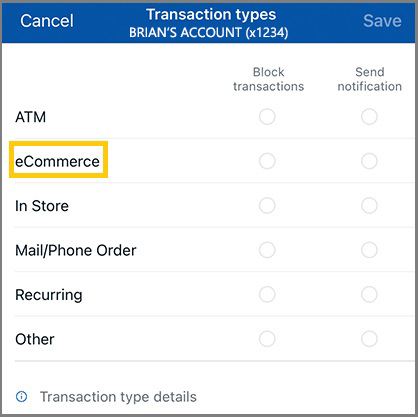 What can I do to keep my debit card safe? 
Keep your card in the RFID blocking card protector it arrived in, or a RFID wallet
Protect your PIN - don't share your PIN with anyone
Don't write your PIN on the back of the card 
Don't conduct financial transactions over public wifi (it is not secure)
Check your bank statements regularly to monitor transactions
Put the HPB Fraud Monitoring Alert phone number into your contacts: 1-800-237-8990
I have more questions about by my debit card. Who do I contact?
Our team is available by HPBGO chat, email, or by phone during regular business hours.