Longmont Día de los Muertos
Photo: Longmont Downtown Development Authority
High Plains Bank Celebrates Día de los Muertos with Creighton Family Altar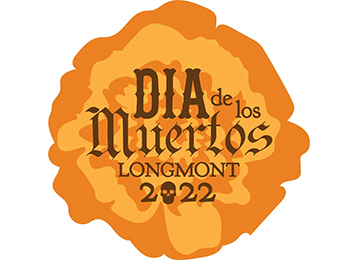 Longmont Comes Together to Celebrate Día de los Muertos
Día de los Muertos (Day of the Dead), celebrated around the world on November 1st and 2nd, is a time to honor loved ones who have passed, as well as their memories. In Longmont, Día de los Muertos has become a special time for the entire community to come together to honor this rich cultural tradition with a multitude of events throughout October and November. Longmont has one of Colorado's longest-running Día de los Muertos exhibition and celebrations which attracts more than 6,000 people annually. 
"Longmont's celebration of Día de los Muertos not only centers the traditions of the celebration, it also celebrates Longmont's local Latinx community," shares Elaine Waterman, Executive Director of the Firehouse Art Center, one of the participating organizations along with the Longmont Downtown Development Association (LDDA), the City of Longmont, and the Longmont Museum and Cultural Center. "From the altars around Longmont, the Family Celebration Downtown, the Art Installations at the Museum and the Firehouse, to our nighttime Catrina Ball, there is a wonderful cross generational, cross cultural storytelling and tradition sharing. The event is truly a beautiful reflection of our diverse community and we are so happy to be a part of it!"
High Plains Bank Honors Creighton Family Heritage
This year, High Plains Bank's Longmont team hosted a colorful booth at the family gathering event in Downtown, complete with an ofrenda, or altar, honoring the Creighton Family, whose roots with High Plains reach back to the 1920s with Alex Creighton. An ofrenda normally consists of items that identify the person or persons being remembered such as photographs along with the traditional pan de muerto, a sugary pastry and calaveritas de azúcar, sugar skulls. 
Today seven of Alex's grandchildren sit on the bank's Board of Directors working to carry on the legacy. Tom Creighton, Jr. serves as the bank's Chairman of the Board, John Creighton serves as the bank's President and Chief Executive Officer, Sam Creighton is President of the holding company and serves as the banks Chief Administrative Officer, Tim Creighton, Ann Creighton, Winifred Walters, and Virginia Newton are board members.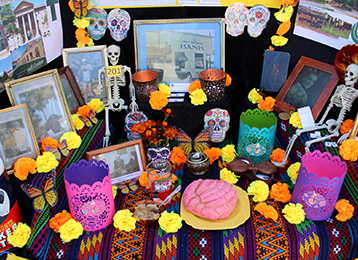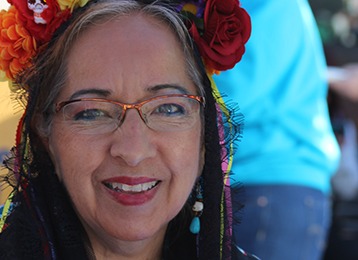 Honoring Memories and Family
"The community really embraces the spirit and traditions of Día de los Muertos," shares Colin Argys, Marketing and Events Coordinator for LDDA. "We love the Family Celebration that the Longmont Museum hosts, the Firehouse Art Center's Gigantes Procession and Catrina Ball, and the meaningful ofrendas and altar displays throughout downtown Longmont shops and businesses. We're proud to be a part of the holiday and help the community honor and commemorate loved ones they've lost."
"Día de los Muertos is SUCH a happy holiday for me!" shares Rose Hopman, Community Support Services Representative for High Plains Bank. "It is filled with love, reverence, music and maybe some lightness of humor. Even though my grandparents immigrated from Mexico to the United States during the Mexican Revolution, it was not a holiday my family or my neighborhood Mexican community celebrated so I knew nothing about it. My first awareness came from our Longmont community. I first participated in it when my mother passed away in 2016. That year my family and I put together an altar for display at the Longmont Museum in memory of my grandmother, mother and father. It really helped with the healing of her passing, honoring her memory and spirit."