Longmont Authentic Barnwood
Longmont's Authentic Barnwood & Antique Lumber:
A Legacy with Deep Roots
When you walk into Authentic Barnwood & Antique Lumber, located at 943 Main Street in Longmont, it's as if you're entering an old tree growth museum. From barnwood to boxcar flooring, semi truck flooring, and live edge slabs, Authentic Barnwood is proud to share the heritage and history of each piece of reclaimed wood with their customers. The environment is both hip, modern, and dedicated to an ancient legacy.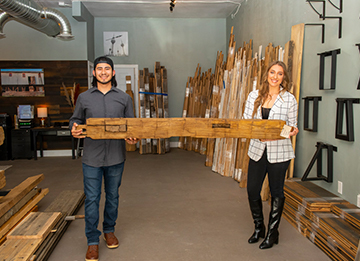 Legacy of Love and Respect
"At Authentic Barnwood, we pride ourselves on the story," says Jess Bernbeck, who co-owns the store and design center with Elias Jasso-Cardenas. "We want to know and share as much history from the wood's previous life with our clients so they know they're getting a real piece of history. Our motto is 'Recreating A Legacy' and we don't take that lightly. The reclamation of century old barns plays a huge part in our future. In the reclaimed wood industry, nothing is lost, everything transformed. Our community plays a big part in our success for the constant support and wanting us to continue to do what we do for the good of the world for years to come."
Ushering in a New Design Experience
Whether building a fireplace mantle, refacing a wall, or redoing a floor, owners Elias Jasso-Cardenas and Jess Bernbeck ensure customers understand the legacy behind the barnwood and other products. Each piece is treated with respect and love and a dedication to preserving history. The shopping experience is curated with placards containing the specific history of the wood; Their products - shiplap, paneling, flooring, mantles, live edge, table tops, are on display in their beautiful showroom which is open by appointment seven days a week and open from Wednesday-Friday with set times.
"High Plains Bank was happy to help this young couple pursue their dream of starting their own small business," says Chris McVay, Chief Development Officer and former Longmont Market President. "We were able to provide them with flexible financing terms and to connect them with other resources to help their business grow and thrive. Jess and Elias are part of an exciting wave of the next generation of entrepreneurs drawn to Longmont and who represent the continued strength of our small business community."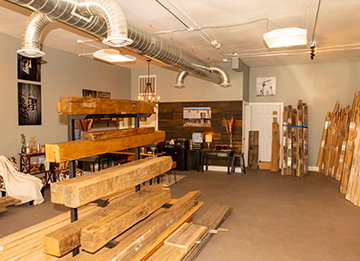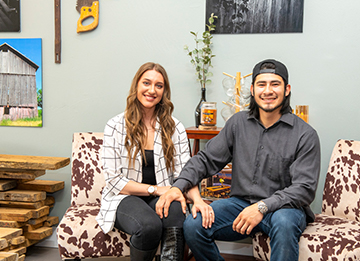 A True Family Affair
Jess and Elias met in college in Kansas and moved to Colorado in 2017, soon calling Longmont home. The journey to reclaimed wood began when Elias, a certified electrician, was working on a house and admired an accent wall. He immediately thought of Jess's Western Kansas roots and the ready supply of barnwood available there. With their combined marketing backgrounds and entrepreneurial spirit, the dynamic pair quickly had residential and commercial customers interested in adding the unique and historical elements to their homes and businesses. 
The Authentic Barnwood & Antique Lumber team is rounded out by Jess's mom, Laurie Bernbeck, who provides remote bookkeeping services, as well as often transporting wood and supplies from Kansas. The showroom and shop are part of a mini-renaissance taking place on Main Street north of 9th Avenue. For Jasso-Cardenas and Bernbeck, they envision the area becoming a design hub, appealing to residential and commercial customers. In addition to providing materials for DIYers, designers, and contractors, Elias and Jess offer the option of custom installation to help bring that special project to life. 
Stop by to see for yourself the special work Authentic Barnwood & Antique Lumber has brought to Longmont. Learn more at 
www.reclaimedwoodcolorado.com
.