Investing in Quality Education Creates Stronger Communities

The Wiggins School District is growing. Currently supporting 770 students in grades K - 12, an average of 35 students has been added every year since 2016. At a time when many schools in Colorado are experiencing a decrease in enrollment, this increase is an indication of how important education is to this town nestled on Colorado's eastern plains, as well as the area being attractive to families to reside. The schools are what Wiggins School District superintendent Trent Kerr likes to call "the hub" of the community.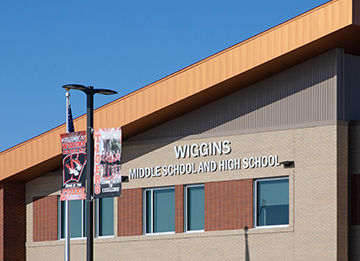 Gathering the Community Together 
The Wiggins School District is the town's largest employer and Superintendent Kerr views the school as the "gathering place" for the families who live in Wiggins, whether they have kids attending the school, or not.

A commitment to quality education is a shared value that reaches beyond the school's walls with a diverse family of community stakeholders. These stakeholders -- parents, individuals, local organizations, and businesses, including High Plains Bank -- are part of the Wiggins School District family.
A Sense of Shared Ownership
"We all take ownership in this community; all of us have a responsibility," Kerr said. "The schools are where it begins for the community, not only because our children are coming here to learn, but also because this is where they learn about the culture of Wiggins and what we hold dear." Those core cultural tenets are proudly displayed on a wall in the school's entryway: leadership, excellence, empowerment, communication, and family.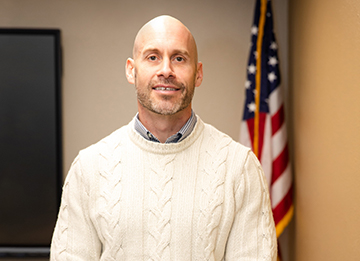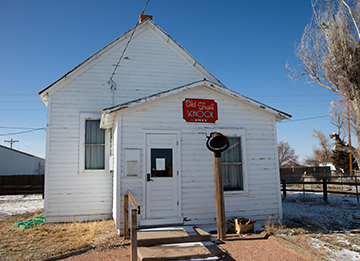 Partnering Together to Help The Next Generation
Part of Wiggins' success means embracing change and growth, two concepts that can be hard for a small town. Kerr and his committee of devoted business leaders like High Plains Bank are dedicated to helping ease that transition. "We are growing because we embrace change," he shares. "The district, the town, and our partners like High Plains Bank, have been forward-thinking and have come together to see how we can partner and offer programs that help our kids and our community."
High Plains Banks has been a district partner and sponsor over the years, including supporting the booster club, the school's Future Farmers of America and Future Business Leaders of America clubs, as well as scholarships and sponsoring several students to be able to participate in clubs. Leadership at the High Plains Bank Wiggins branch also sits on the district's Stakeholders Committee.
"We take it quite literally; being a stakeholder means that we have a stake in the ground, doing what we can to help the community to succeed," said Esther Lingo, Deputy President of High Plains Bank's Wiggins branch. 
Building for the Future
High Plains Bank's new Wiggins branch, which opened in late August 2022, is also a testament to the bank's belief in Wiggins' growth potential. The project, built by Brush-based Buildings by Design, has deep connections to the Wiggins community. Travis Lefever, co-owner and business developer for BBD, says "I grew up in Wiggins, and our company and the employees have been longtime customers of High Plains Bank. It's a great experience to see the growth and vision of this branch come to life!" 
"We have had the good fortune to be part of the Wiggins community for 20 years now - our team has been operating the bank for much longer," says John Creighton, High Plains Bank CEO. "We anticipate that Wiggins will be a hub for the long-term growth of the organization and to serve the surrounding communities. None of this would be possible without the support of the community and the long-time and emerging leaders of our Wiggins team – Gail, Esther, Janet, Debbie, Linda, Diana, Ximena, Caleb, Erika, Krystal, and Karla."
Visit the new branch at 401 Central Avenue, diagonally from the original Wiggins branch.