Bennett - A Town Dedicated to Wellness
Bennett, Colorado is one of the fastest growing communities along the eastern I-70 corridor. With all this growth, one would think that the neighborly quality of life the town is known for might be at risk. However, a unique approach to urban planning, collaboration, and prioritizing wellness is making sure that the opposite is occurring.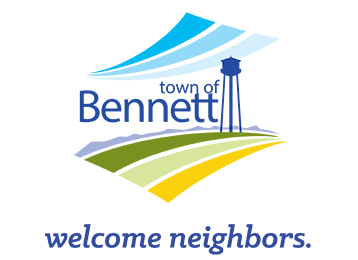 Wellness as a Town Value
In 2010, the town board embarked on a comprehensive plan that was funded completely by health partners, Tri-County Health and Colorado Health Foundation. and updated in 2021. The impact of this funding set the town of Bennett on a trajectory of health, connectivity, with wellness for its residents and town employees, as well as for those who invest in the community's development.
Bennett's motto is "Welcome Neighbors" and the town takes every opportunity for positive neighbor-to-neighbor connections, whether on a trail, in a fitness or art class, at a public gathering or park, or in the community garden.
"Health is really important in Bennett," shares Trish Stiles, Bennett's Town Manager. "Making sure we have access to walkable, livable communities is a huge component of the town's plan. When we have conversations with people making investments in Bennett, we talk to them about why it is important to have sidewalks on both sides of the street and in our commercial areas. We want our residents to feel they are able to go out and walk. It gives you a neighborly feeling." 
"When I first moved to Bennett, I was overwhelmed with a wonderful sense of community and care," says Casey Clearwater, High Plains Bank Bennett Branch Manager. "The town of Bennett is a community of people that care for each other and go above and beyond to see residents thrive." 
A Spirit of Healthy Collaboration
A hallmark of Bennett's wellness initiative is the spirit of collaboration. The Bennett Recreation Center works with the town to empower and connect the close to 500 members, with offerings for all ages, many of which High Plains Bank has sponsored. The town also provides free memberships for every town employee. For Leila Schaub, a sixth generation Coloradoan and the director of the Bennett Recreation Center, the most important component is community and connection. Her motto is "the highest and the best for everyone, everywhere." 
"When you look at the health and wellness sectors of our community, it's hard to attend a community event without observing health and wellness leaders, like the town and Leila Schaub, actively lifting up our community members," Casey Clearwater says. "We, as a hometown bank, are always looking for ways to encourage our community and support its needs and goals. The ideals of High Plains Bank fit seamlessly and joyfully into this positive environment. "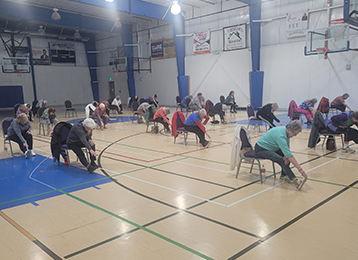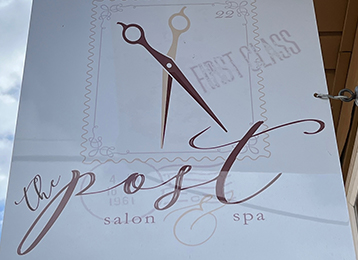 A Business Model Built on Wellness
The Bennett business community has also embraced the town's approach to wellness. Mike Burroughs, owner of Burroughs Service, and a longstanding Bennett business leader, has recently ventured beyond automobiles to becoming the owner of The Post Salon and Spa. The Salon and Barbershop is based in Bennett, offering styling and haircuts for women and men, coloring, and soon, manicures and pedicures. The Post Spa is located in Strasburg with a certified massage therapist and an esthetician. 
"I've had a small business in Bennett and served the I-70 Corridor for forty years," shares Burroughs. "When we purchased the building a year ago, part of our goal was to give a local small business a place to call their own, as well as one that the owners and the community patrons could take pride in."
"It's hard to immerse yourself into the town of Bennett without running into the Burrough's name," says Clearwater. "From 40 years in the auto industry, to town involvement, ranging from youth to seniors, Mike and his family are always trying to support the town in every way possible. This new venture into health, wellness, and self care is one that I cannot wait to watch Mike and his team thrive in."
Calm, Relaxing, Welcoming Environment
Both locations have been mindfully renovated by Burroughs and Anita Roach, the Post's brand and space designer, to create a hip, relaxing, and welcoming environment. But Burroughs and Roach have aspirations beyond personal care services. "The vision that Mike has held for this project from the beginning has been about community wellness through multiple avenues, all focused on the sense of pride he feels of being a resident and business owner here," shares Roach. "I am thrilled with what Mike and his team have accomplished and proud of being a part of his vision."
Burroughs and Roach are also in the planning stages of "Inspire Bennett," to serve as an ongoing education resource for the town, and in particular for area youth and local small businesses. 
For the past 18 years, Burroughs has partnered with High Plains Bank: "First and foremost, the hometown care and respect are second-to-none. They go out of their way to make sure things happen correctly and in a timely manner for a successful outcome. And without fail, all bank staff treat us like we are friends. Talk about caring about the community's well-being!"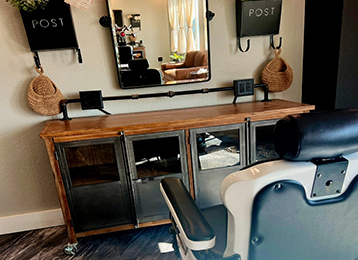 The town of Bennett and the business community exemplifies what is clearly stated in the town's 2021 plan: The Town of Bennett is a community built with small town character that is happy, connected, safe, and innovative with opportunity to live well and thrive. 
*article photos courtesy of Leila Schaub/Bennett Recreation Center and Anita Roach, The Post Salon and Spa.