Trust, Estate, and Investment Services at High Plains Bank
High Plains Bank's New Trust, Estate, and Investment Services:
Another Way To Positively Impact Communities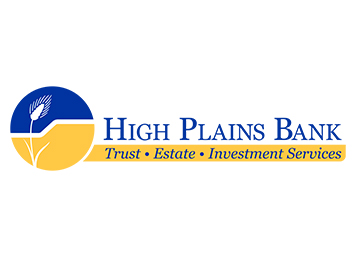 In November, 2022, High Plains Bank established the Trust, Estate, and Investment Services department. This new department offers administrative and investment services for personal trusts, estate and decedent's trust administration, investment management accounts, conservatorships, and managed or self-directed IRA's. The Trust, Estate, and Investment Services team brings together over eighty-five collective years of fiduciary and investment experience and is headed up by Jane Cox, Senior Vice President and Trust Officer. 
Jane joined the High Plains Bank team in early 2022. She has extensive banking industry experience, thirty-one years specifically in Trust and Wealth Management serving the greater Longmont community. Jane graduated from the University of Northern Colorado with a Bachelor's of Arts degree in Business and Finance. She currently serves as the Chair of the Longs Peak Hospital Foundation Board. Previously, she was active on the board of the OUR Center of Longmont Board, Friends of the Longmont Senior Center, and St. John the Baptist Catholic Church.
"The Trust, Estate, and Investment Services department is another way that High Plains Bank is positively impacting our communities and represents our vision of doing the right things for our customers," shares Jane Cox. "I'm proud to be part of such an experienced and community-involved team of professionals."
"Jane and her team's approach to serving customers with compassion align closely with the bank's core values," says John Creighton. "We could not be more excited to have Jane as part of our senior leadership team."
 Jane Cox is joined by (left to right): 
Robbin M. Bowler, JD, Trust Officer:

Originally from Idaho, Robbin ventured to Illinois for college at The Medill School of Journalism at Northwestern University and then headed back west to finish her education at the University of Colorado School of Law. She started her career in the securities group of a large international law firm. Somewhat by chance, she ended up doing trust and estate work and it turned out to be just what she was looking for! During more than 15 years of focusing on probate and decedent's trust administration, she found that what she enjoys most are the relationships she builds as she helps people navigate these processes. Robbin is not currently practicing law.

Jessica Garwood, Trust Administrator:

Jessica joined High Plains Bank in September of 2022. She is originally from Kansas, but has called Colorado home for the last 18 years. Jessica graduated from Emporia State University in Kansas, with a Bachelor's of Arts degree in Marketing. She has 18 years of banking experience, with the last nine being in trust services focused in operations and administration. Jessica enjoys trust services work for the personal connections made with clients.

Cindy L. Kindsfater, Trust Officer

:

Cindy is a Colorado native. She has over twenty-five years of trust and estate experience, including Operations Manager, Trust and Estate Administration and Trust Department startup. Cindy has attended Canon Trust School and various estate planning/trust seminars over the years. She currently serves on the Good Samaritan Society Loveland Village Advisory Board.