Community is more than a place. Community is a living, breathing entity that is connected to where we grew up, currently live, and work. According to Stanford University's Social Innovation Review, "Community is both a feeling and a set of relationships among people [where] members have a sense of trust, belonging, safety, and caring for one another." The Bennett Community Food Bank, located in the town of Bennett and operated by Flora and Dan Goodnight, exemplifies this definition of community.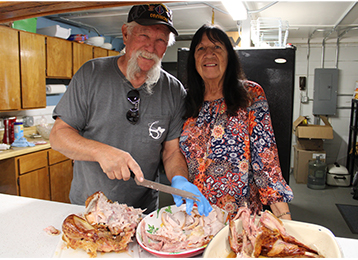 Humble Beginnings
When Flora's local pastor asked her if she would be interested in helping with the community food bank in Bennett, she didn't hesitate. Flora, a resident of Bennett since the late 1980s, shared that she grew up in Oklahoma without much, but despite this, her mother set an example of always caring for others. After the church eventually disbanded, Flora stayed on and continued the church's food bank work, since that's where she felt her sense of community and faith directed her to be.

In 2016, Flora established the Bennett Community Food Bank as its own nonprofit 501c3 organization and runs it with the help of her husband, Dan Goodnight, a Vietnam veteran and chaplain for the local VFW. The Food Bank is also supported by partnerships that include the Town of Bennett, the Bennett School District, King Soopers, the Food Bank of the Rockies, Adams County Food Distribution, and 9Cares/Colorado Shares. The result of this expansive partnership means that the needs of the community are able to be met.
Going the Extra Mile 
Bennett is one of the fastest growing communities in the Denver Metro area and with that growth comes challenges, including food insecurity. The Food Bank has witnessed an increase in the number of families requiring assistance. On a monthly average, the Bennett Community Food Bank assists 391 individuals (102 families). 
"The Bennett Food Bank is an organization that gives its heart and soul to help alleviate these challenges for members of our community, new and old, who need a helping hand," says Casey Clearwater, High Plains Bank Bennett Branch Manager. "Flora ensures that families in our community are met where they are with grace, love, and a commitment to human decency. It is an absolute pleasure to work with Flora, and High Plains Bank Bennett looks forward to watching the continued joy and comfort she and the Food Bank bring to the community we call home."
In addition to Flora and Dan, the Food Bank is supported by a dedicated team of volunteers who are always willing to go the extra mile. 
This dedication was in full swing at the Tri-Valley VFW Post 8449 early in November, when the Food Bank's annual Thanksgiving lunch served more than 65 seniors and veterans. The delicious meal, prepared and served up by the Goodnights and volunteers Gaylene Alton, Nina Callow, Eileen Church, Cam Kepler, Carol Mitchell, Yvonne Read, and Lindsay Wheaton, was complete with all the holiday fixings, beverages,  delicious homemade baked goods, and plenty of community cheer.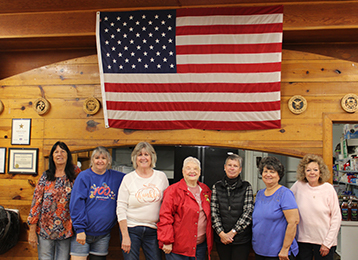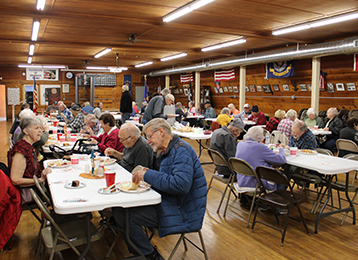 Caring for Families, Seniors, and Veterans
The Thanksgiving gathering is part of the Food Bank's monthly community lunches they host for area seniors, veterans, and law enforcement. In addition to providing nutritious food across the area and the monthly lunches, the Food Bank gathers and distributes other items such as clothing, gas cards, and gift cards for the holidays. They also make available information for public assistance programs such as Colorado Low-Income Energy Assistance Program (LEAP) and the Special Supplemental Nutrition Program for Women, Infants, and Children (WIC).
Community Impact Across Communities
Community Impact is a core value for the entire High Plains Bank organization all year round, but especially during the holidays when struggles can be heightened for families, seniors, and veterans. In addition to ongoing support for the Bennett Community Food Bank, High Plains Bank Bennett is also participating in the town's Holiday Help program. Non-perishable food, toys, and other items can be dropped off at the branch location.
Additional High Plains Bank holiday-related community giving programs include:
High Plains Bank Flagler

is participating in the Operation Christmas Child program, which ships boxes of holiday items to children in another country, as well as donating to the Flatlanders Motorcycle Toy Drive. 

High Plains Bank Keenesburg

is partnering with Life Stories Child and Family Advocacy for the third annual holiday "Angel Tree," which will be accepting gift cards and gift items for older teens (13 years and up) from Monday, November 27th through Friday, December 8th. 

High Plains Bank Longmont

Kimbark branch location is one of 20+ donation drop off locations as part of the Longmont Rotary Club's 21st Winter Warmth Coat drive, which runs through Thursday, November 30th. In addition to new and gently used children's and adult coats, other winter weather items are accepted such as blankets, gloves, mittens, boots, and scarves. Full details can be found on the Longmont Rotary Club website.

High Plains Bank Wiggins

: The branch is participating in a December food drive from December 1st through December 20th.