Photo courtesy of Cyclhops
Longmont's Cyclhops - Serving Up Community First
In business, as in life, timing is everything. Take Anita Gray, owner of Longmont's Cyclhops Bike CANtina, a staple in the area's bustling restaurant scene. After many years as a key member of the Oskar Blues Brewery leadership team, she took a leap of faith and followed her passion for Mexican food and tequila. On January 1, 2020, she transitioned out of her role with Oskar Blues Brewery and became owner of Cyclhops, one of Longmont's most beloved local establishments, located on the west side of town. Little did she know what would happen to her, and the rest of the world, only three short months later.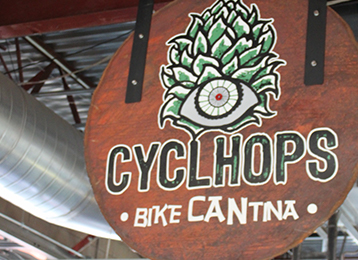 More than a Restaurant
From the beginning, Cyclhops has been more than a favorite Mexican eatery and bar - the restaurant also houses a full service bike shop for REEB Cycles. The name Cyclhops is a tongue-in-cheek take on the one-eyed mythical creature and as an homage to the popularity of cycling. In fact, Gray shared with the Longmont Leader in 2021 that "We thought it was really a fun idea to combine the two under one roof and attract the bicycle riding crowd and be able to come in and grab something fun and casual to eat, if you were out on a ride," Gray said and many of Cyclhops customers ride their bikes to the restaurant, located at 600 S. Airport Road, a location that houses a number of women-owned businesses including Fabulous Finds, Robin's Chocolates, and Proto's Pizza. 
Rising to Serve the Community
However, as many rose up to support the local business community, Kalyca Zarych, a devoted Cyclhops customer purchased 200 burritos to donate to the Longmont United Hospital's nursing team and pledged to keep doing so to help Gray keep her doors open. Word spread of Kalyca's actions and like a pebble in a pond, a ripple effect took place which reflected the spirit of giving so many communities committed throughout the pandemic. Lifebridge Church, who reached out to partner and provide lunches for first responders.
Cyclhops matched the donation for every firehouse, police station, and EMT unit. Not only did they keep the doors open, they served the community with their delicious food and warm hearts. Other partners included Cindy Noble at Longmont United Hospital who wanted to help first responders with pre-made family meals, so that those serving others could have a little less to do when they got home. The ripple effect went beyond organizations to Cyclhops customers, who ordered 2-3 times a week, who Gray views as her "West Longmont family."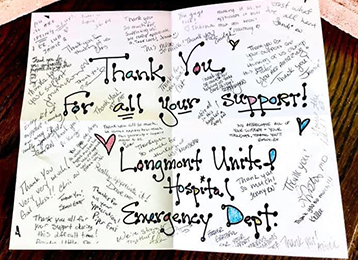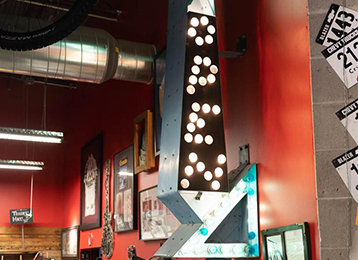 High Plains Bank Responded In a Time of Need
The business challenges continued for Gray, who was initially passed over for a PPP loan from her former bank. She sat on the Longmont Area Chamber of Commerce with High Plains Bank's Brian Berry, Director of Merchant Services who connected Anita with then Longmont Market President, Chris McVay. Gray, and Cyclhops, were funded in two weeks and she transferred her business accounts to High Plains Bank soon after. 
The relationship between Cyclhops and High Plains Bank expanded when the restaurant was ready to implement a new Point of Sale (POS) system. With her accountant, Gray realized how much she was paying in fees and again turned to Brian Berry who helped her set up the new system and put her in touch with other High Plains Bank business customers, such as 300 Suns Brewing, so Gray could speak to others using the system. 
Photo courtesy of Cyclhops
Shared Values and Finding Balance
"High Plains Bank has been fortunate enough to work with Anita and Cyclhops the last few years," shares Brian Berry. "During the pandemic we were able to help with PPP along with their banking relationship. Most recently, we were able to provide Anita with a new modern Point of Sale system for the restaurant, which gives them more functionality along with a great reduction in credit card processing fees. Anita and Cyclhops do so much for our community from her involvement with the Longmont Area Chamber of Commerce Board of Directors to providing meals for first responders during the pandemic – she does it all. We are so glad she is part of the Longmont community and a wonderful customer of High Plains Bank."
Three years later, Gray feels like this is her first year in business and is filled with resilience, gratitude, and confidence, as well as a new respect for a balanced approach to work and life. "I appreciate down time like never before," and she makes sure her team is able to take days off from the demanding restaurant world. 
For Gray, the experience taught her "how to lead in a different way. By believing in myself and my community, I discovered I was capable of more than I ever thought possible."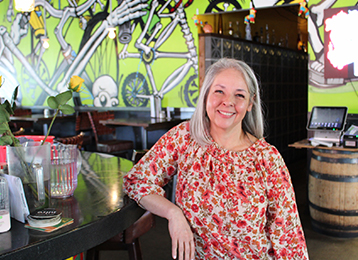 Cyclhops Bike CANtina
600 S. Airport Road
Longmont, CO 80503
303.776.2453