Fall into Fun in Bennett!
Fall is in the air all over Colorado. The days are shorter, we've switched from eating peach pie to apple pie, and the leaves are at their golden peak. For those lucky enough to live in Bennett, this time of year is truly something special. From late September through October, Folks from the i-70 corridor flock to Mile High Farms for their annual Fall Festival, a family friendly event that takes place every Saturday and Sunday through October 29th.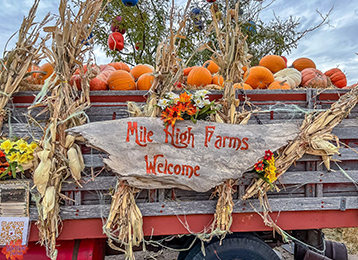 Affordable Fall Fun
The Mile High Farms Festival began in 2010 and is operated by Bill Coyle, owner of Mile High Farms, as well as a long-time Bennett community member and High Plains Bank customer. The eleven-acre farm features two corn mazes (including a mini-maze for the little ones), a petting zoo, antique tractor hayrides, a pumpkin patch, barrel cart rides, corn pits, a playground, entertainment, concessions, and in Coyle's words, "a quirky little town" guaranteed to spark young (and old) imaginations and sense of play. The mazes have a theme unique to every year and are designed by Precision Mazes in Kansas City, Kansas with GPS technology. 
Ticket prices are affordable and all-inclusive (except for the pumpkins, which are also reasonably priced) – all of which makes the Mile High Farms Fall Festival one of the top choices for families from all over Colorado. The pumpkin patch showcases a large variety of home-grown beauties, including pam (or baking) pumpkins, cinderellas, blue delights, and prizewinners (bring your truck as these guys are BIG!).
Agricultural Heritage and Family-Friendly
"Our goal with Mile High Farms Fall Festival is to help people get into the mood for fall and to honor the area's agricultural heritage," says Coyle. He shares that "people make coming here a family ritual, spanning across generations." Coyle's community and family-friendly approach is obviously a winning recipe, as the festival enjoyed more than 8000 visitors in 2022, with as many, if not more, expected this year. 
A High Plains Bank customer for more than 15 years for both his sod business and Mile High Farms, Coyle shares that "Working with High Plains Bank is always a great experience, with good service and programs that other banks don't offer."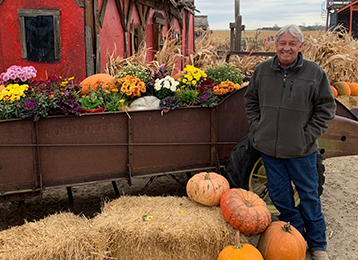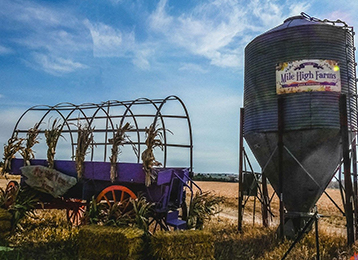 From Hay Rides to Picking the Perfect Pumpkin
"Fall is my absolute favorite season," says Casey Clearwater, High Plains Bank Bennett Branch Manager. "One of my favorite ways to spend a fall day is at Mile High Farms. There is something for the whole family,and it is such a wonderful community experience. I look forward to going with my family every year."
There's still plenty of time to plan a trip to Mile High Farms, whether it's for a hayride, getting lost in the corn maze, or picking that perfect pumpkin!
The Mile High Farms Fall Festival runs on Saturdays and Sundays from 10:00 AM to 6:00 PM through Sunday, October 29th. To learn more about the Mile High Farms Fall Festival, visit www.milehighfarms.com.
Mile High Farms
11 Cavanaugh Road, Bennett, Colorado 80102
720-560-0730
info@milehighfarms.com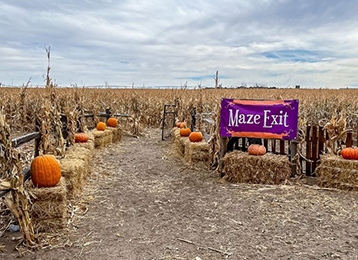 *article photos courtesy of Mile High Farms.