Celebrating 25 Years in Bennett
High Plains Bank Celebrates 25th Anniversary in Bennett
High Plains Bank is happy to be celebrating its silver anniversary in the Town of Bennett. As the town has grown over the last 25 years, so has High Plains Bank's commitment to the community, its small business owners, and residents from Bennett to Strasburg and all the communities along the i-70 corridor.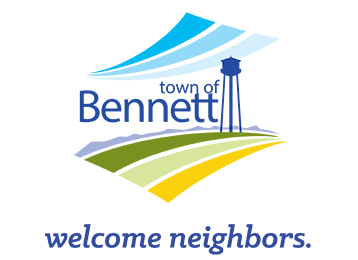 Bennett, Colorado: Heritage, Community, and Responsible Growth
Founded in 1862 by the Bennet brothers, the "Bennet Ranch," the name was soon changed to include the more Americanized version of "Bennett," as it is known today. The Town of Bennett, bridging both Adams and Arapahoe Counties, was incorporated in 1929. 
In 2023, Bennett is growing, with an anticipated construction of over 2,500 residential homes over the next five years, and is dedicated to retaining its small town feel. The town places a high value on good education, community services, environmental stewardship, accessible wellness, and a welcoming, connected sense of community. With over six miles of walking and biking trails, parks, a community and recreation center, plus more than 200 acres of protected open spaces, and year round activities, Bennett is built for connecting. 
As Bennett Has Grown, So Has High Plains Bank's Commitment
In the late 1990s, Bennett was on a trajectory for expansion, attracting people to the area conveniently located near Denver and Denver International Airport, which opened in 1995. In 1998, High Plains Bank saw the opportunity in Bennett, and decided to open a branch, named High Plains National Bank. That title was then changed to High Plains Bank in 2003 when the bank established a charter in the state of Colorado for its three branches in Flagler, Bennett, and Wiggins. 
Over the past twenty-five years, High Plains Bank has supported the town's growth and initiatives including the Bennett Arts Council, the Bennett High School Booster Club, Bennett and Strasburg Days, small business such as Burroughs Service Company, High Plains Diner, as well as local farms, agricultural businesses, the school district, and regional county fairs. 
"It has been a privilege to be a part of the Bennett and i-70 corridor communities for a quarter of a century," shares John Creighton, CEO of High Plains Bank. "We are proud to be the only Colorado-chartered bank in the area and are committed to many more generations of independent, community banking. We are excited for the opportunities to grow along with Bennett and the region. We are grateful to all of the customers who worked with and supported us since 1998."
Part of the future growth for High Plains Bank Bennett is the addition of Wade Yoder, seasoned agriculture and commercial lending professional. Wade began his banking career in Greeley at United Bank (now Wells Fargo), working at Farm Credit, and before joining High Plains Bank, served as the Vice President/Market President of Farmers State Bank of Calhan.
"It's hard to believe High Plains Bank opened their doors in Bennett 25 years ago," says Karissa Becklund, High Plains Bank Deputy Chief Credit Officer. "Wade Yoder will bring a wealth of experience to the Bennett lending team. I look forward to seeing the growth and possibilities that are to come in this community."
Wade will be in the Bennett branch location on Tuesdays and Fridays.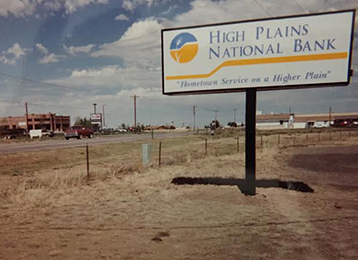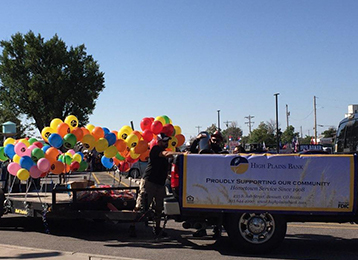 Caring Staff, Customers, and Community
As with all High Plains Bank branch locations, the Bennett team is local to the area and works to develop relationships with the community such as coaching little league baseball teams, playing volleyball at the recreation center, bowling at Lucky Strike Lanes and so much more. Their extra efforts don't go unnoticed. 
"I love High Plains Bank. The people are amazing," says customer Sharol Lantz. "I love them so much and they have the easiest online banking ever. It's the only one I've ever been able to use."
"High Plains Bank stands out because of its people," states customer James Erlsten. "They are knowledgeable, organized, and they really care. The Bennett team sets a standard for customer service  that is above and beyond anything I have ever experienced in banking."
High Plains Bank Bennett Team
The positive experience goes both ways, as a number of current and former High Plains Bank Bennett team members share:
Casey Clearwater, High Plains Bank Bennett Manager: "The town of Bennett welcomed me with open arms when I relocated to the Eastern Plains. I feel truly blessed to be a part of this community and I am incredibly grateful to High Plains Bank for their dedication to the community I call home. I can't imagine a better place to work, better people to work with, or a better community to serve."
Renee Graham, Director of Operations:

"It has been my honor to serve and work with the i-70 Corridor communities for the past 23 years while employed at High Plains Bank – at both our Bennett and Flagler locations. The bonds formed, the stories I've heard, and the opportunity to witness the flourishing of so many communities along our stretch of the highway have left an indelible mark on my heart."

Robin Romero, Account Services:

Working at the bank has helped me fully embrace the small town and community that I live in. It's been so great getting to know more of my neighbors. I look forward to working with and meeting more as our community grows. I'm excited to see where we will be in the next 25 years."