Accounts Payable Services
Debit Card Management
HPBGO Online and Digital Banking
Free to enroll with both iPhone and Android Apps

Access your accounts and card management tools anytime from anywhere at no charge


Make mobile deposits with no daily or monthly limits


Have secure conversations with actual employees (during business hours)
ACH Payments
Manage regular payments to multiple payees - e.g. employee payroll

Make payments quickly and safely, without writing checks

One low monthly fee - no per item fees
Wire Transfer Services
Manage wires online with cash management services

Set up templates for recurring wires

Contact bank staff to assist you with a wire

Tom
"For me, the best part of High Plains Bank is the team and how accommodating and encouraging they are. I have brought every one of my businesses to High Plains because their attitude is about more than basic banking. They go deeper and are genuinely here to help their clients be successful. High Plains is an enormous part of this community's growth, success, and beauty. It makes this a better place just like I hope I have."
Tom Bredehoft
Flagler Mayor
Owner of I-70 Diner
Owner of the Flagler Strip Mall
Publisher of the Flagler News and the Mile Saver Shopper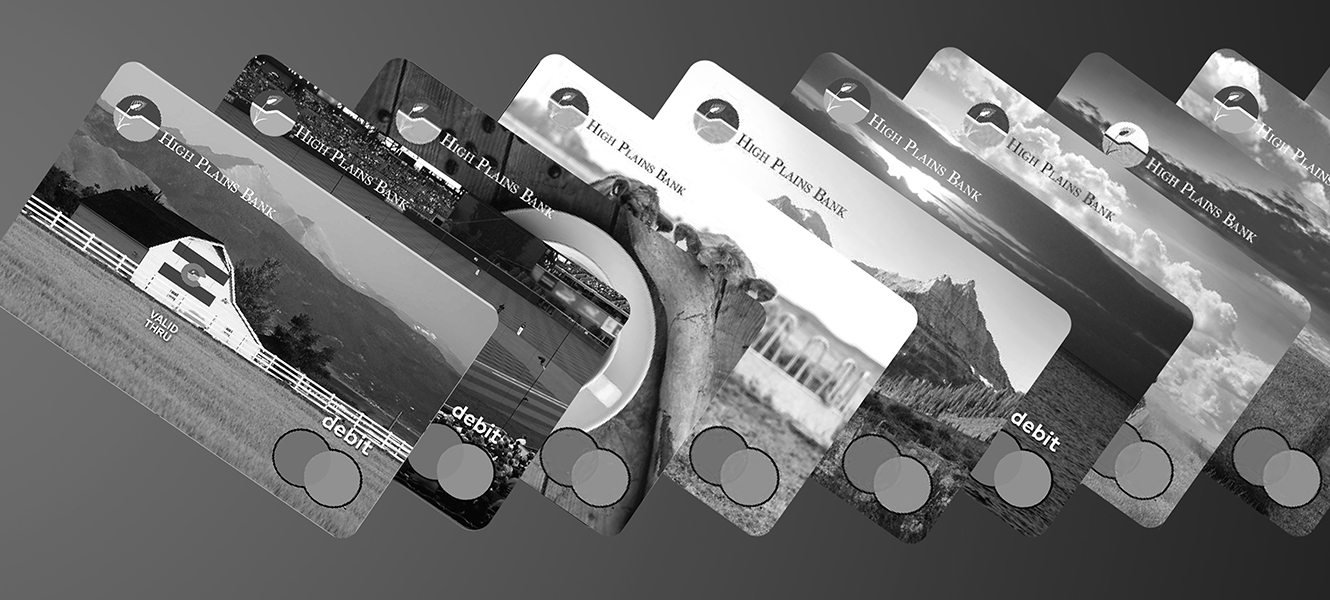 Express Yourself
Over 30 unique debit card designs to choose from. Get your card printed while you wait, or choose it over the phone and pick it up later or receive it in the mail.
Business Spending Accounts
Regular Checking
Interest Bearing Checking
Minimum Opening
$25
$25
Monthly Service
$0
$0
Interest
No
Yes
Additional Features
Debit Card Available

Debit Card Available, for owner and designated employees

Provide bookkeeper and accountant with limited online access

Optional Cash Management Services

Kristine Bell
"Our new customers are always impressed with the features of our business checking accounts. With no monthly service fees and no limit on the number of transactions each month, there is no crazy math equation with your credits and debits that you have to figure out every month. And, HPB pays you interest on your balance and allows businesses to use our mobile check deposit service at no charge!"
Kristine Bell
HPB Employee
Business Spending Account (Checking)
No maintenance fees

Obtain a free debit card (plastic or mobile wallet) or purchase checks to access funds

National network of no-fee ATMs

No fees for returned checks
Interest Bearing Business Spending Account (Checking)
Earn interest on your operating account

No maintenance or per item fees

Use online banking to manage accounts - connect with personal accounts

Provide bookkeeper and accountant with limited access

Free debit cards for designated employees

Reduce the possibility of fraud with cash management and reverse positive pay
Take your Business to the Next Level
Businesses have evolving banking needs at every stage of development. Learn how to set your business up for success utilizing the modules in the HPBU Financial Education Center. Whether you are in the beginning stages of developing an idea or have been in business for many years, you will find information that will help you solidify the financial foundation of your business.