Photos courtesy of Tuff's Ranch and Amanda Schultz Photography
Tuff's Ranch and Animal Rescue: Growing and Caring for the Future
Some businesses are small in size, whether the physical footprint, or in number of employees. But for one special entrepreneur and High Plains Bank business customer, the passion for business came early in life. At nine years old, Tuff Glasmann, owner of Tuff's Ranch and Tuff's Animal Rescue, both located in Bennett, Colorado, has a mission – raise animals with love and respect and find a better way to feed people.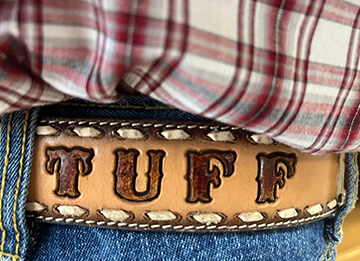 Small in Size, Not in Purpose
For as long as Tuff can remember, he's had the entrepreneurial spirit and dreamed of being a farmer and rancher, a dream encouraged by his parents, Paul and Michelle Skaggs, both local business owners. In fact, he began raising chickens at age three, as well as growing fruit and vegetables, and at age seven began operating a number of vending machines, which he leases to local 4H clubs. 
Tuff obviously has what it takes to be a successful business owner, with over 240 animals at the ranch, including emus, goats, cows, alpacas, pigs, and of course, chickens. The ranch is famous for its mouth-watering grass-fed and grass-finished beef products, bacon products, meat sticks, goat milk soaps, all available at the ranch storefront called The Outpost. As well as the day to day operations, Tuff is involved in all aspects of the business, including financial decisions such as investments and where to bank.
"After we moved to Bennett, we did quite a bit of research before choosing High Plains Bank for Tuff's Ranch," says Paul Skaggs, Tuff's dad and second generation rancher. "We like that it is locally run and after speaking to other farmers and ranchers, we heard positive things about how they and their business are treated." 
"Tuff, his parents, and the ranch are such an inspiring and thought provoking story," says Matt Elvehjem, High Plains Bank Bennett Market President. "We are delighted that we can provide the banking services Tuff and his team need to help his ranch and businesses thrive. They are so intentional about making their business dream a reality, and all of us can learn important lessons from their dedication. I look forward to bringing my family and friends to visit the Tuff's Ranch!" 
A Balancing Act Worth Making
Tuff will be heading into fourth grade and balances his homeschooling studies with his responsibilities for the ranch and animal rescue, which he estimates come out to 2-3 hours a day. Between feeding the animals, baling hay, cleaning the various habitats and even delivering babies, Tuff's days are full for anyone, let alone a nine year old. 
"It's not like a video game, where you can hit the reset button," shares Paul. "Tuff understands that the ranch and the animal rescue are everyday commitments." And ones he is more than happy to make. One of the things Tuff is proudest of is that every single animal (all named by Tuff) is touched every single day, a practice that leads to healthier and happier animals. Tuff has been recognized for his business acumen from an early age, being named a 2021 Young Americans Center for Financial Education YouthBiz Star Winner in the 6-11 year old category. The winnings from the award helped Tuff achieve another dream, to start Tuff's Animal Rescue, which he opened in 2021.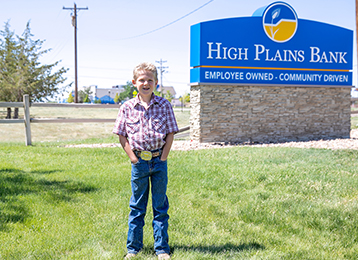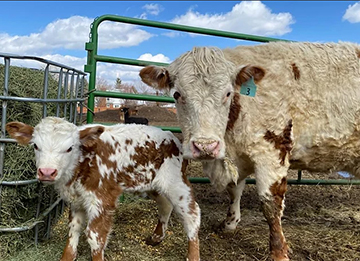 Making People Happy and Feeding People
The animal rescue is another part of Tuff's ambition of giving back to the community. The 501c-3 nonprofit organization is dedicated to providing a comfortable retirement for animals, as well as educational programs "Farm/Ranch to Table," "Fiber-to-Clothing," as well as "Ranch Hand for a Day," which offers the opportunity to get a glimpse of life on the ranch. The proceeds of these activities, as well as from "The Outpost," the ranch and rescue store, all go to help support the retired animals. 
An example of how Tuff is always thinking of others, during the height of the COVID pandemic when many in the community were struggling, he made the business decision to keep his egg prices low. Continuing this commitment, Tuff also provided, processed and donated $10,000 worth of cattle meat from the ranch to the local Veteran's redistribution center, and he participates in a program to provide local families enrolled in Colorado SNAP/EBT with high-quality, fresh meat.
What motivates Tuff to continue growing as a business owner and young leader? "Educating people about the importance of farmers and where the food on their dinner plate comes from," he answers with a smile. From his YouTube channel - make sure to check out his video on where chocolate milk comes from - to his inspiring example for people of all ages, Tuff is here to make a difference. And he knows he can't do it alone.
Tuff's parents have instilled in Tuff that his early success is a building block for his entire life and that it wouldn't be possible without the larger community. "As the saying goes, from our fellow farmers and ranchers, to Young Americans, to High Plains Bank - it really does take a village to raise a child."